Trudeau climate plan wants 20% of cars to be EVs by 2026
Almost $1 billion to be invested in charging stations between federal government and Canada Infrastructure Bank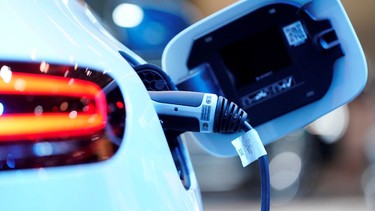 A charging port on a Mercedes Benz EQC 400 4Matic electric vehicle at the Canadian International AutoShow in Toronto. Photo by Mark Blinch /Reuters
Prime Minister Justin Trudeau's government wants to institute a mandate that at least 20 per cent of new cars offered for sale by 2026 have zero emissions, as part of Canada's plan to meet its 2030 emissions-reduction goal.
The document, introduced Tuesday in parliament by Environment Minister Steven Guilbeault, promises an additional $9.1 billion in new spending to reach Canada's climate targets. Overall, the government aims to reduce emissions more than 40 per cent by 2030.
The Canada Infrastructure Bank will spend $500 million on electric vehicle charging infrastructure, and the government will put forward an extra $400 million towards building charging stations.