Used Guide: 2018-2021 Hyundai Kona
5 tips to find a first-class example of a second-hand Hyundai Kona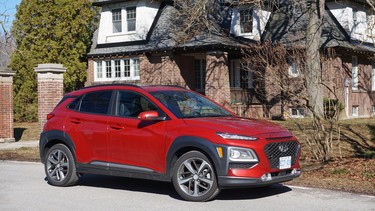 2020 Hyundai Kona Photo by Brian Harper /Driving
When the Hyundai Kona first went on sale, Hyundai Canada had to ask the Hyundai Kona factory in South Korea to ramp up production to meet strong demand. 
Before long, the Hyundai Kona was everywhere — racking up awards, attracting new buyers to Hyundai showrooms, and placing the automaker squarely in the sights of compact crossover shoppers as a new Canadian favourite.
Elsewhere, a heated steering wheel, heated seats, a sunroof, automatic climate control, a wireless smartphone charging pad, Infinity stereo, and automatic lights help add plenty of creature comfort.
Deep inside of the engine of the used Kona you're considering are important parts called piston rings. Piston rings are vital to the proper operation of every engine, and piston ring problems can cause very serious engine failure which could result in costly repairs or even an accident.
Hyundai recalled about 76,000 Konas in Canada because the engines in certain vehicles may have been built with defective piston rings that could fail, and ruin the Kona's engine.
Note that the piston ring recall only affects models with the 2-litre non-turbo engine, from model years 2019 to 2021 inclusive.