Used Guide: 2018-2022 Chevrolet Equinox
5 tips to find a first-class example of a second-hand Chevrolet Equinox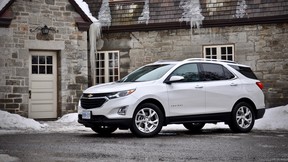 2018 Chevrolet Equinox 2.0T AWD Photo by Derek McNaughton
For model-year 2018, the Chevrolet Equinox was redone from the ground up, and the resulting machine rode an Opel-based platform that was stronger and lighter than its predecessor.
Our Derek McNaughton reviewed the all-new Equinox back in 2018 (read his story here) , and largely found it to be a compelling package with a comfortable ride, a quality feel, and ample power from a new turbocharged four-cylinder engine.
The Canadian-built Equinox offered shoppers newly available content including advanced safety equipment, a surround-vision camera system, Low Speed Forward Automatic Braking, available LED lighting provisions, a heated steering wheel, and in-car WiFi.
An all-turbocharged engine lineup was fitted, with most used models running a 1.5 litre four-cylinder turbo with 170 horsepower, or a 2-litre four-cylinder turbo with 252. A turbodiesel engine was also available, and both remote start and heated seats were standard on all trim grades sold in Canada.
On connectivity, look for available Apple CarPlay and Android Auto, and both 7- and 8-inch touch-screen interfaces, depending on the model selected.
Note that upscale or sportier models with larger wheels and lower-profile tires may deliver a firmer, choppier ride — especially on rougher road surfaces or coarsely-textured pavement. If you're set on an Equinox but you find the ride too rough and noisy, consider test-driving another model with smaller wheels and thicker tires, which you may find to deliver a more comfortable drive.
Tire choice also plays into noise levels, with some owners noting that replacing factory tires with some proven favourites from Michelin or Goodyear saw a notable reduction in noise levels.
On your test drive, quiet the Equinox's cabin and listen carefully for signs of unwanted noise, or excessive noise levels– especially during highway-speed driving and while travelling over a rough road surfaces. Pay close attention to the sound levels emanating from the rear of the vehicle, beneath the cargo area. According to some owners, plenty of noise enters the interior form this area.
Be on the lookout for unwanted popping, snapping, clunking, or grinding sounds while test-driving an Equinox from a quieted cabin too, as these could be signs of suspension or driveline trouble that could cost you money.
If in doubt, have a technician inspect the vehicle before you buy.