Wagon Review: 2022 Volvo V90 Cross Country B6
An unbeatable combination of functionality, car-like drivability, and an intangible "cool" factor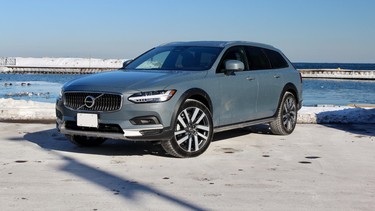 2022 Volvo V90 Cross Country B6 Photo by Peter Bleakney
The station wagon has traced an interesting trajectory here in North America. When I was a kid, the wagon was the default domestic dromedary. I crossed Canada one summer in the back seat of a Ford Falcon Futura wagon, unbelted, no air-con, and fighting with my sister the whole way. Oh, and camping every night. Life was different back then. When the minivan came along, the station wagon became unfashionable. Then it was the minivan's turn — it became heroically unfashionable when buyers turned their gaze to SUVs.
You want a full-size station wagon in North America today? Well, you'd better have deep pockets and a penchant for ritzy European iron, 'cause this niche of jacked-up, body-cladded wagons is pricey and wafer thin.
With Volvo aiming to soon have a fully "electrified" fleet, this new mild hybrid system in the B6 just slips under the wire. It won't deliver any fully electric propulsion — the small 13 hp, 30 lb-ft integrated starter/generator is there for auto start/stop and to recoup energy from the brakes for the 48-volt battery. The B6 ditches the old T6's belt-driven supercharger for an electric supercharger. It all works, giving the CC a determined shove off the line and super smooth transitions through the eight-speed's gear changes with its programmed "torque fill." The auto start/stop is nearly imperceptible. Horsepower drops a bit from the old T6's 316 horses to 295, but torque rises marginally to 310 lb-ft.
I wouldn't call the V90 CC B6 quick, but it certainly gets the job done. On the road this wagon is poised, handles well, and lasers along the highway with the stability and relaxed confidence expected of top-shelf European goods. It seems Volvo has been working on its steering feel too — the previous non-committal vagueness appears to be vanquished. Under acceleration, the B6's growly intake sound will either be music to your ears or a reminder your Euro-long roof has a small turbo four-pot toiling away underhood. Either way, the mild hybrid powertrain's smooth drivability is an improvement.