Watch: Chevy Silverado flipped by tornado, then drives off
The Internet took the truck's escape as a sign the driver was okay—and so proceeded to meme about it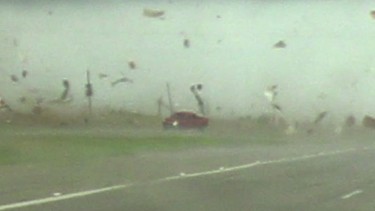 Video footage captures an early-2000s Chevrolet Silverado driving through a tornado in Texas. Photo by Brian Emfinger /YouTube
A Texas storm-chaser caught an amazing event on camera recently, and Twitter users are already having fun turning its subject, a red Chevrolet Silverado, into a meme. 
The 4-minute video following an EF2 tornado that recently tore through parts of Elgin, Texas opens with what its original poster, Brian Emfinger, calls "a story about a red truck and a tornado." In this tale, an early-2000s Chevrolet Silverado is caught in the wrong place (a four-lane highway in Elgin) at the wrong time (right when the tornado spins by) and ends up getting flipped on its side by the extreme winds.
According to one commenter who alleges to have insight, the truck was being driven by a teenage boy "about 16-17" who "got away with just a cut on his arm."
This raised questions of its own, like what kind of teenager has a truck but no phone? 
Regardless, hopefully this event is more of an exciting story for the driver to tell their friends and family, and less of an emotionally traumatic event.