Watch: McLaren 570S fails to climb mild, snowy Vancouver driveway
After a half hour of failing to ascend the snowy driveway, a friendly Jeep comes to the rescue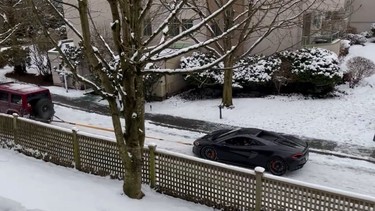 McLaren 570S towed up a snowy Vancouver driveway Photo by @411regan /Twitter
This is what happens when it snows in Vancouver, folks. 
Many a wealthy supercar owner has learned the hard way that excessive horsepower does not traction make — especially when the roads disappear in the white stuff, as they do once or twice a year in Vancouver. 
The real-time struggle of the driver of a McLaren 570S Spider attempting to crawl out of an oh-so-slightly inclined driveway in Vancouver over the holidays went viral when a neighbour posted a clip of the slow-moving action to Twitter.