Watch: Police seek driver of flying Tesla from viral video
Cops in Los Angeles offered $1,000 cash for anyone with information about the driver and already got lots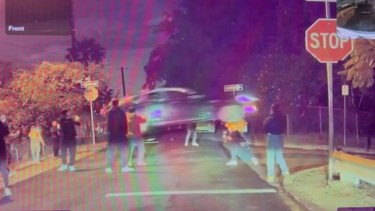 A screenshot from a viral video of a Tesla Model S flying over the crest of Baxter St. in Los Angeles Photo by Alex Choi /YouTube
There's something about car meetups that make stupid people do stupid things. 
This is something that's been noted many times before, seemingly wherever enthusiasts gather together, get all fired up on horsepower and torque, and end up acting a fool and ruining a perfectly good pickup with a Dodge Challenger. 
As noted by Choi in his longer video, the street where the crash takes place – the same place David Dobrik jumped his Tesla at a lower speed, in 2020 (see below) – "looks like a scene out of Inception," the pavement being near-vertical and all, and, post-crash, strewn with car parts from the flying EV and the vehicles it struck, mixed in with parts from some destroyed garbage cans. 
From an enthusiast perspective, it was a massive jump followed by an unfortunate accident. From a police perspective, it was a misdemeanor hit-and-run that justified a $1,000 cash reward for information about the driver.