What's the Buzz?: The Internet reacts to the 2023 VW ID. Buzz
Volkswagen's all-electric microbus has finally arrived, and so have all of social media's unsolicited opinions about it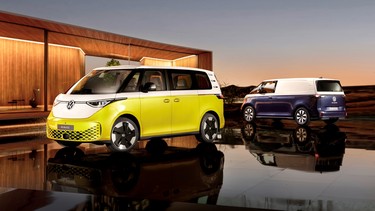 Volkswagen ID. Buzz and ID. Buzz Cargo Photo by Volkswagen
The internet is abuzz with news and comments on the just-revealed Volkswagen ID. Buzz, one of the most hotly anticipated electric vehicles to date, from one of the world's largest automakers. 
VW unveiled its all-electric reincarnation of the iconic flower-powered VW buses from the '60s and '70s live, via the world wide web, on March 9. Only the European model was shown (the North American model will be unveiled next year ahead of sales in 2024) and not much of the interior at that, but the details given were enough to inspire plenty of hot takes. 
Visuals of the updated classic's exterior dropped like an irresistible booty call to vanlifers who may dream of one day calling the Buzz home. 
But it wasn't solely the nomadic among us who ID'd with the ID. In fact, there are those who believe the van will usher in a renaissance for the humble minivan.