Why Canadian gas prices are higher than ever (it's not all Ukraine)
The world economy is just now waking up from two years of COVID lockdowns and oil demand is really, really high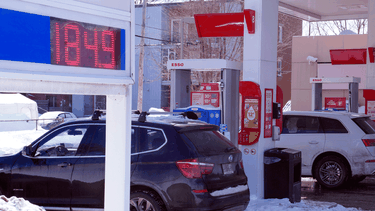 Motorists fill up at a gas station in Montreal on March 3, 2022. Photo by Paul Chiasson/The Canadian Press
If you're one of the 27 million Canadians who possess a driver's licence, you may have noticed that gasoline is more expensive than at any other time since motorized transport was first popularized in North America. Gas prices in Toronto are set to surge to a never-before-seen 167.9 cents. While in Victoria, a litre of gasoline already costs a near-unbelievable 194.9 cents.
Below, a quick explanation of how this all came to pass (and why it's not the gas stations' fault). Special thanks to Rory Johnston, author of the free newsletter Commodity Context, who helped break down many of the technical details of the Canadian oil sector.
However, Russia's increasingly financial isolation from the rest of the world is causing Western energy firms to voluntarily pull out of the Russian market: Shell, BP, and Exxon-Mobil, among others, are all announcing plans to hightail it out of Siberia. So even if virtually no governments are sanctioning Russian oil directly, the net effect is that it's getting harder and harder for Russia to sell its petroleum abroad. As of this writing, Russia can't find buyers for more than 70 per cent of its oil — even when they discount it to near-ridiculous rates.
The oil-guzzling cruise industry is making a comeback. So are the airlines. Around the world, millions of internal combustion and jet engines are being fired up for the first times in months, and all of them are desperate for fuel. Oil demand is really, really high , in other words.