Winter Review: 2022 Acura MDX A-Spec
A confident crossover with strong AWD and a pleasing powertrain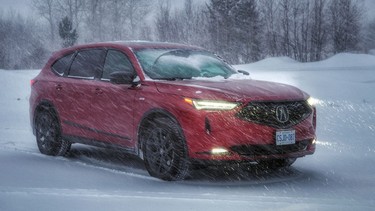 2022 Acura MDX A-Spec Photo by Justin Pritchard
Several key attributes stood out after an extended wintertime road test in the 2022 Acura MDX A-Spec, especially after driving my winter tire-equipped tester through some of the heaviest snow of the season, along with plenty of seat time while travelling after dark on Northern Ontario's highways and on the badly-crumbling backroads surrounding much of Sudbury Ontario.
These observations can help perspective shoppers understand what to expect from their MDX in several real-world conditions they're unlikely to face on a typical dealership test-drive, and I hope you can use them to help make a more informed purchase decision.
Check out the video feature to see the SH-AWD system working on snow and ice in slow-motion. The footage reveals a rear axle that's participating in driving this luxury SUV from the first inch of movement on snow and ice, with no front-wheel slippage required to engage rear-axle traction. This does away with torque steer and squatting; off the line, it's just point and shoot even when traction's limited.
From the driver's seat, that's added confidence and a more precise reaction to your throttle inputs. Your commands go directly to the road more obediently, and that's a machine that's easier for its driver to connect and work in sync with. On all but the most challenging surfaces, a prod on the throttle is met with an immediate leap forward as the MDX dives into winter driving conditions with all four wheels, all the time.