Your Questions Answered: 2022 Porsche Macan
Answering the internet's most popular questions about the 2022 Porsche Macan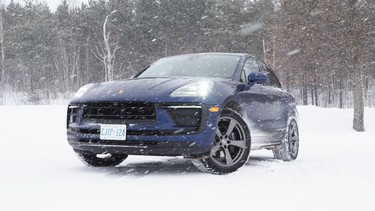 2022 Porsche Macan Photo by Justin Pritchard
The Macan is the smaller of two Porsche SUV models, the little brother to the popular Porsche Cayenne, and the entry point to the Porsche brand with its sub-$60,000 (CAD) starting price.
As the most affordable Porsche, the Macan has been responsible for attracting a lot of new shoppers to the brand. Porsche says that 60 per cent are conquests — that is, shoppers who left other brands to come to Porsche. The Macan's design and performance are often listed as key purchase considerations.
In Porsche's Macan and Cayenne SUVs, the system has specially-programmed modes for off-road use, too. The result is an exceptional driving machine for the winter driving enthusiast, and one that's ready for off-road work at the press of a button, too.
Actual dependability of any used used Porsche Macan you're considering can best be assessed by having the vehicle you're considering inspected by a professional technician before you buy, and many owners prefer to opt for a model sold through a Certified Pre-Owned (CPO) program at a Porsche dealership for maximum peace of mind.
With careful and attentive winter driving on a proper set of winter tires, a Porsche Macan offers a fantastic winter driving experience.