Your Questions Answered: 2022 Volkswagen ID.4
Answering Google's most popular questions about the Volkswagen ID.4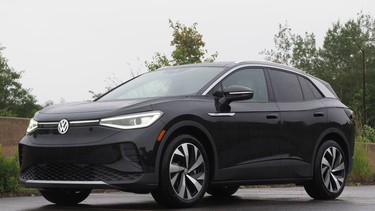 VW ID.4 Photo by Justin Pritchard
The Volkswagen ID.4 is the brand's first mass-market electric vehicle (EV). It hits the road as a spacious, flexible all-electric crossover that's dog-friendly, comfortable, and smooth on the road. 
At the moment, the Volkswagen ID.4 is an all-electric alternative to other CUVs like the Ford Escape and Honda CR-V. For the average Canadian who drives fewer than 50 kilometres per day, its 400-kilometre range should prove sufficient for days of errands and commuting between charges, all year long.
Remember: electric cars don't need to be started, and there's no need to turn a key or push a button to start an engine. With the VW ID.4's smart key in their bag or pocket, drivers can 'sit to start' — literally, open the door, sit down, buckle up, shift into drive, and head off.
Standard equipment on Canadian models includes a heat-pump climate control system with cabin pre-heating, heated front seats and steering wheel, and a heated windscreen. Volkswagen's IQ. DRIVE safety system is also standard, combining numerous advanced safety technologies under one umbrella.