30,000 tickets sold for Vancouver Formula E event 100 days out, organizers say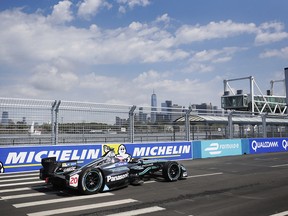 Mitch Evans pilots his Jaguar I-TYPE during the 2019 New York City ePrix in Brooklyn with the Manhattan skyline in the background. Photo by LAT Images
One hundred days out from Vancouver's first Formula E event, organizers say early ticket sales have been brisk, but much work remains ahead of what they call a first-of-its-kind event for the world of electric car racing.
On Canada Day long weekend this year Vancouver is set to host the electric car event, called Canadian E-Fest, joining other destinations including Berlin, Rome, Monaco and New York in the Formula E Championship calendar.
Vancouver's E-Fest will stand out from other Formula E races, with its focus on creating an entire "festival weekend," Roy said. In addition to the race, on Saturday, July 2, E-Fest will also include a sustainability business conference, an e-sports tournament, and live music, with rockers Nickelback announced last month.