B.C. school districts reluctant to provide attendance numbers on first day back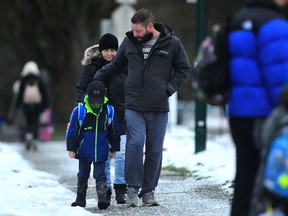 Students return to Sir John Franklin Elementary in East Vancouver following a week-long delay in scheduled classes after the Christmas holidays. Photo by NICK PROCAYLO /PNG
Several large Metro Vancouver school districts would not release attendance numbers on Monday for the first in-person day of classes following a week's delay for most children due to rising COVID-19 cases.
Last week, provincial Education Minister Jennifer Whiteside said schools would be comparing current attendance rates to previous years to determine if public health officers should be further investigating the impact of COVID on classrooms.
Postmedia asked the largest school districts Monday about their turnout.
In Surrey, student absentee rates varied by school, with the district average about four per cent higher than in early December, said Surrey schools spokesperson Ritinder Matthew.
The Burnaby School District said it did not have time to share attendance records for the first day back to school.
Attendance numbers from the first day of school, and even for later this week, might not mean much, said one long-time former high school principal.
"It's probably going to be soft attendance," said Darren Danyluk, president of the B.C. Principals' and Vice-Principals' Association. "It wouldn't be a number that I would rely upon as a base to build on. Later this week, and even early next week, I think we'll sort of get back into the swing of things."
Danyluk checked in with one colleague who noted that "the attendance rate was lower than what he would have anticipated, and he thinks it's due to people's caution."