Ben Affleck and Jennifer Lopez splash out over 50M on family home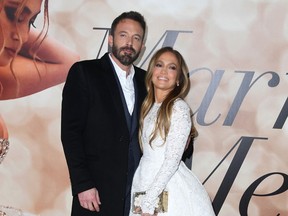 Ben Affleck and Jennifer Lopez at Marry Me premiere – Getty – February 2022 Bang Showbiz
Ben Affleck and Jennifer Lopez are splashing out over $50 million on a 10-bedroom estate.
The couple – who rekindled their romance last year – have reportedly agreed a deal to purchase a 20,000 sq ft abode in the Bel Air region of Los Angeles and the property has plenty of space for the 49-year-old actor's three children and the 'On the Floor' hitmaker's twins because the couple are keen for them to all stay there together.
The news of the new family home comes after it was recently reported the 'Tender Bar' star and his partner – who has 14-year-old Max and Emme with ex-husband Marc Anthony – are looking for a London base this summer.
A source said: "There is a very trusted team looking for the perfect home for Ben and J-Lo for the summer.
"It will probably be the usual mansion in a leafy area on the outskirts of London. American stars love areas such as Richmond which, as well as being lovely, is close to Heathrow Airport, but also near enough to some of the big studios such as Leavesden and Shepperton."