Bob Saget's family says new docs 'tell entire story' of his death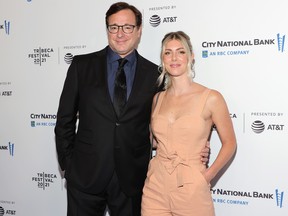 Bob Saget and Kelly Rizzo seen in 2021. Photo by Getty Images
Bob Saget's family is speaking out through their attorney after the release of new records related to the comedian's untimely death earlier this year.
A redacted report that was obtained by the Sun from the Orange County Sherrif's Department contained dozens of photos from the Ritz-Carlton hotel suite in Orlando, Fla., where Saget was found dead on Jan. 9. In addition to police body cam footage, the package included audio interviews with people who came into contact with the Full House star, who was in Florida to perform a pair of standup shows, and the last-known photo of Saget alive.
Saget's family had successfully sued to block the release of some of the records related to his death, including photos of his body and certain video evidence.
The photos made public revealed nothing was amiss in Saget's room. Pictures released to the Sun, showed the comedian's clothes hanging in his closet, his iPad, iPhone, AirPods, glasses and chapstick on his nightstand, discarded face masks in the waste basket, and his bed fully made. Police also released photos of the bed's headboard, thought to be a possible cause of Saget's fatal injury.
Saget's death was ruled an accident by Chief Medical Examiner Joshua Stephany, M.D., with his report stating that his grievous injuries (which were said to be consistent with a car crash or being attacked with a baseball bat) was most likely caused by "something hard, covered by something soft," and he gave, as an example, a fall onto a carpeted floor.