Class of 2024 onward will require Indigenous-focused coursework to graduate in B.C.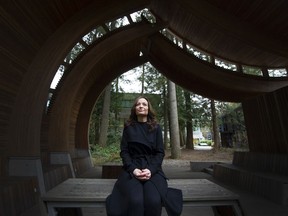 Amy Parent is an assistant professor of education at UBC and associate prof in SFU's education department. She is Nisga'a from her mother's side, hailing from the Nass Valley north of Terrace, and her Nisga'a name is Noxs Ts'aawit (Mother of the Raven Warrior Chief). Photo: Arlen Redekop Photo by Arlen Redekop /PNG
The B.C. government's decision to require high school students to complete Indigenous courses in order to graduate is an important step but must consist of more than a history lesson, education observers say.
Starting with the class of 2024, high school graduates in British Columbia will need to complete mandatory Indigenous-focused coursework to obtain their Dogwood diploma. A public engagement period began on March 7 asking people to share their thoughts on the new grad requirement, which will apply to students in all B.C. public, private and offshore schools.
"This is exciting," Chrona said. "I think it's important folks take a look at what the proposed model is because I think not everyone necessarily realizes there is a model that's been proposed for this, it's not going to be just everybody-make-up-their-own thing."
Right now, more than 90 per cent of B.C. students graduate with more than the required credits, according to the Ministry of Education, but fewer than five per cent of B.C. students choose one of the Indigenous-focused courses available to Grades 10 to 12.
"These courses are incredibly rich, robust courses," Chrona said.