COVID-19: London Drugs defends vaccine mandate in pharmacist wrongful dismissal suit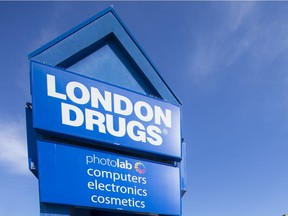 London Drugs at 19th and Lonsdale North Vancouver. Photo by Francis Georgian /PNG
London Drugs has filed court documents defending itself against a lawsuit by a former pharmacist that she was wrongfully dismissed for refusing to get a COVID-19 vaccination.
Lina Reid, who worked as a staff pharmacist for 16 years, says in her lawsuit that she was told in August that her employer was introducing a policy requiring all employees to be fully vaccinated.
But in their response to the lawsuit, London Drugs says that the regular duties for Reid, who it said resigned from her job in December, required her to be in close proximity to other employees and to the public.
"She was required to give vaccinations to members of the public and to provide health-related information, which may include information regarding COVID-19," says the response. "Had the plaintiff remained employed by the defendant, she would have been required to administer COVID-19 booster shots to members of the public."
London Drugs says the purpose of the vaccine policy for its employees was to reflect the store's status as a health-care provider for essential goods and services and to create a safe environment for employees and customers.