COVID-19: Some aren't ready to do without their masks just yet in B.C.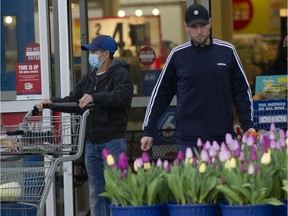 Shoppers with-and-without masks at the Real Canadian Superstore on Grandview Highway in Vancouver on March 14. PNG
In the week since provincial mask mandates were dropped, one thing has become clear: Many British Columbians aren't ready to let go.
Masks are now a personal choice, but they're also a new normal.
In other words, we conform. The more people continue to wear masks, the more others are likely to wear them as well.
Shariff cites a well-known social experiment, set in an elevator, called Face the Rear that illustrates how easily people can be influenced to conform to social norms.
In the video, three people involved in the experiment walk into the elevator and turn to face the back. When one person not involved in the set-up gets on, he becomes very uncomfortable, and eventually changes direction to face the rear with everyone else.