COVID-19: Some fear superspreader events as youth sports tournaments get green light in B.C.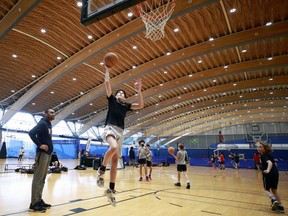 Pasha Bains, co-founder DRIVE sports club, watches his students do layups January 27 at the Richmond oval in Richmond. Photo by Jeff Vinnick /PNG
Some parents and teachers in B.C. are pushing back against a public health directive that will allow youth sports tournaments to resume on Feb. 1.
They say youth sports has been a conduit for COVID-19 transmission since resuming last fall and they believe tournaments could lead to superspreader events.
But schools and youth sports organizations say their record suggests otherwise.
Parents like Kathy Marliss, a co-founder of B.C. School COVID Tracker, said schools have done little to reduce the risk of transmission at sporting events.
Safe Schools B.C., a coalition of parents and teachers, wants all youth sports activities suspended during the Omicron wave over fears that allowing unlimited numbers of young athletes in sports venues puts children's health at risk.
"It's never really been explained to parents that five to 15 per cent of people infected will get long COVID and that is important for them to know," said a Safe Schools co-founder, Jennifer Heighton. "Some kids will get long COVID and will have longer lasting health effects and will not be able to return to their sport."
On Tuesday, the provincial health officer announced a ban on youth tournaments, ordered on Dec. 21, would be rescinded next week.
"We have always prioritized making sure that young people are able to access these important aspects of their lives, particularly at that age, in that there are timing limits for things like university scholarships that become important," Dr. Bonnie Henry. "We've taken all that into account, making sure we can safely restart youth sports tournaments first."