Douglas Todd: First Nations leaders 'deeply disturbed' by teachers' union campaign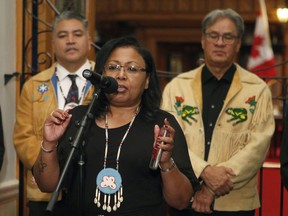 Cheryl Casimer (centre), of The First Nations Summit, is one of seven B.C. Indigenous leaders who sent the education minister a strong letter spelling out how they are "alarmed" by the BCTF's "targeted attack campaign" to cancel testing of students. Photo by CHAD HIPOLITO /THE CANADIAN PRESS
B.C. Teachers' Federation leaders go to great lengths to say they're listening to the concerns of First Nations people, but there is one subject on which they strongly disagree with Indigenous leaders.
Provincewide testing of schoolchildren.
Seven top B.C.'s First Nations chiefs and other Indigenous leaders recently sent the education minister a strong letter, obtained by Postmedia, spelling out how they are "alarmed" and "deeply disturbed" by the BCTF's "targeted attack campaign" to cancel current provincewide testing of elementary students.
The First Nations leaders say results of the reading and arithmetic tests for grades 4 and 7 students, called the Foundation Skills Assessments or FSA, are "necessary for addressing inequities with K-12 education," because they point to school districts where Indigenous children (and others) are struggling.
Grand Chief Stewart Phillip of the Union of B.C. Indian Chiefs, Cheryl Casimer of the First Nations Summit and Chief Terry Teegee of the B.C. Assembly of First Nations were among the seven leaders signing the Nov. 18 letter, which defended the tests as a way to enhance equity in the school system.
The Indigenous signatories say the FSA results "support the needs of populations underserved and marginalized by public education systems."
Despite the fundamental disagreement with First Nations over this issue, the BCTF has not been ready to stop its extensive efforts to encourage public-school parents to withdraw their youngsters from the FSA tests in an attempt to undermine them.
"We see the rankings as being very damaging and dangerous to public education," BCTF president Teri Mooring says in an October video. "The rankings serve no purpose except to perhaps promote private education."
The "Cancel the FSA" website of the BCTF, which represents more than 45,000 public-school teachers, alleges the tests "take away from valuable classroom teaching," "do not result in increased support for students" and "create anxiety for students."