Empty five-acre land parcel available on Vancouver's prestigious Belmont Avenue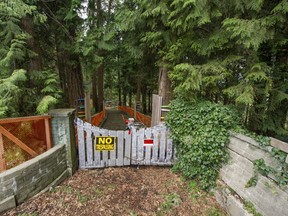 The entrance to 4883 Belmont Avenue that is for sale as part of a three-lot parcel in Vancouver.
An extraordinary opportunity exists for a developer willing to spend $81 million buying up Vancouver's most valuable parcel of vacant detached home lots, says local historian John Atkin.
Atkin said the three side-by-side lots on Belmont Avenue in West Point Grey comprise a total of five acres. One has never been developed, while two homes that sat on the other lots are long demolished. The three have been sold as a parcel since at least the 1970s and are recorded as lots one, two and three in 1909 subdivision records.
The prestigious Belmont heights neighbourhood north of 4th Avenue is bounded by Blanca Street, the Spanish Banks Creek ravine and NW Marine Drive.
Atkin said the area was subdivided around the same time as Shaughnessy with similar-sized lots (some 200-feet wide and 400-feet deep). However, the Shaughnessy lots needed at least $5,000 to be spent on the new home and had to be developed as soon as possible and so attracted a different buyer than the Belmont heights neighbourhood, that was then considered remote.
There are still homes in the neighbourhood that were built in the early 1910s — the Vancouver real-estate market collapsed in 1913 — including one on West 2nd Avenue that was built for mattress manufacturer Robert Hunter and is now occupied by former politician, physician and Olympic basketball player Pat McGreer.