Hollywood execs stay silent on Will Smith Oscar incident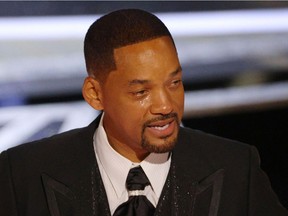 Will Smith cries as he accepts the Oscar for Best Actor in "King Richard" at the 94th Academy Awards in Hollywood, Los Angeles, California, U.S., March 27, 2022. REUTERS/Brian Snyder Photo by BRIAN SNYDER /REUTERS
A day after superstar Will Smith slapped comedian Chris Rock minutes before accepting the best actor Oscar at the 94th Academy Awards, Hollywood power brokers remained publicly silent even as celebrities criticized the attack on social media.
The lack of a reaction is a testament to Smith's broad popularity in Hollywood, and his powerful box office cachet, according to some observers.
Another executive predicted the controversy would blow over, noting, "He's a talented guy at the top of his game … This will be a blip and won't matter long- or even short-term."
Smith has anchored such lucrative film franchises as "Bad Boys," "Independence Day" and "Men in Black." His films, both live-action and animated, have grossed more than $9 billion globally, according to box office researcher Comscore.
The musician and actor rose to prominence as the twentysomething star of the 1990s NBC sitcom "The Fresh Prince of Bel-Air," a show that lasted six seasons. It helped launch his film career as an irreverent action hero, and later, his work as a producer of films and series.