Ian Mulgrew: Schoenborn tests B.C.'s mental health law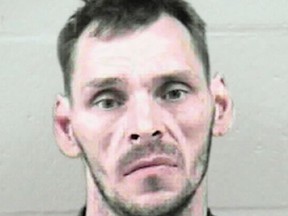 Allan Dwayne Schoenborn Photo by TBA /PROVINCE
The veteran Vancouver lawyer interrupted skiing with his family to answer yet another media inquiry about a notorious client, Allan Schoenborn, now eligible for possibly weeks-long freedom.
"We're actually in Whistler together right now!" quipped Rishi Gill. "He's a surprisingly good moguls skier!"
With a mugshot alone that would scare MMA champ Conor McGregor, the-hell-he-isn't-guilty-and-should-be-in-prison outrage over Schoenborn remains palpable 14 years after his cognitive dysfunction turned violent.
In April 2008, he butchered his daughter and smothered his two sons in the family's trailer home in Merritt. He fled, eluding a dragnet for 10 days before emerging from the wilderness disheveled and incoherent.
He said he believed his kids — Kaitlynne, 10, Max, 8, and Corden, 5, — were being sexually abused, and he was saving them.