Kamloops lawyer charged in connection with suspicious death investigation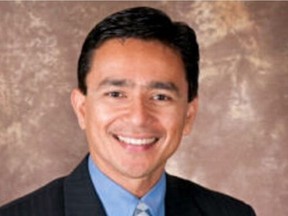 Butch Bagabuyo is facing one count of interference with a dead body related to the discovery of a deceased person in a vehicle outside a Kamloops home on March 17. Photo by Kamloops This Week /PNG
KAMLOOPS — A Kamloops lawyer has been arrested and charged in connection with a suspicious death in Dufferin last week, Kamloops RCMP have confirmed.
Butch Bagabuyo, 53, is facing one count of interference with a dead body related to a person found deceased in a vehicle outside a Monterey Place home on March 17, Const. Crystal Evelyn confirmed to KTW.
The van's Budget logo was accompanied with decals saying "we buy boxes." The van is now part of the police investigation, with Mounties on the weekend asking for the public's help in providing information on the van's travels in-and-around Kamloops. Police haven't, however, said if the van is, in fact, the vehicle in which the deceased person was found.
"We are asking the public for assistance in helping us establish the vehicle's movements during this past week," Staff Sgt. Todd Wiebe said in a news release. "Please have a look at the van and its licence plate. If you think you saw it, or if you have dashcam or surveillance footage capturing it, please contact police as soon as possible."
Police are looking for information on the van's travels in Kamloops and surrounding rural areas and communities, including Barriere, Clearwater, Valemount, Savana, Cache Creek and other spots along those corridors.