Kelowna school trustees approve vaccination mandate for teachers, staff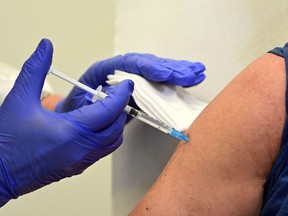 Photo by MIGUEL MEDINA /AFP via Getty Images
The 4,000 employees of Central Okanagan public schools will have to be vaccinated against COVID-19 or agree to be tested regularly.
School trustees voted 5-2 on Wednesday for the measures, with the majority saying it was a necessary and important way to protect students and district staff.
"Our ethical and legal responsibility to our employees is for a safe workplace," said trustee Norah Bowman, who made the proposal.
"This motion on a vaccination mandate is about the health and safety of all of our students and staff from a highly contagious communicable disease," trustee Julia Fraser said.
Board chairwoman Moyra Baxter said she didn't believe those who addressed the board reflected community sentiment. She also dismissed much of the information presented by critics.
"I do not agree with the vast majority of the information we've been fed," Baxter said. "I've looked at it, and I see no truth in it."
Most school district employees are already vaccinated against COVID-19, and the B.C. Teachers Federation and the union representing other workers have said they do not oppose a vaccine mandate.
"I think the vast majority of our staff support this," said trustee Chantelle Desrosiers.
Voting in favour of the mandate were Bowman, Baxter, Broughton, Fraser, and Desrosiers.
Thrustees in favour said the overwhelming medical consensus was that vaccines offered safe and effective protection against COVID-19. While vaccinated people can still test positive for the disease, they are much less likely to become seriously ill or require hospitalization than the unvaccinated.