Lululemon debuts first sneakers as it takes on Nike, Adidas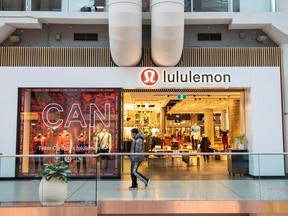 A Lululemon store in the CF Toronto Eaton Centre shopping mall in Toronto. Photo by REUTERS/Carlos Osorio files
Lululemon Athletica Inc. is debuting its first sneaker line as the yoga-wear maker branches out into footwear and tries to outfit athletes from head to toe.
The running shoes, called Blissfeel, are "made for women first," the company said Tuesday. They'll be sold online and at some stores in North America, the U.K. and China this month. Lululemon plans to release four footwear lines this year: the running shoe, a trainer, a gym shoe and a post-workout slide. Special-edition and seasonal collections are planned as well, plus a men's line set for 2023.
"Footwear is the natural next step for us to expand and apply our long history of innovation in fit, feel and performance, and it represents an exciting moment for our brand," Chief Executive Officer Calvin McDonald said in a statement.
Lululemon first said it would begin work on shoes in 2019 as part of a five-year plan in search of growth through new product categories and international expansion. It had previously sold footwear only through vendor partners such as performance shoemaker Athletic Propulsion Labs.