Manson follower denied parole, deemed 'unreasonable danger to society' after 50 years in jail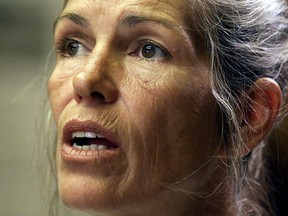 Leslie Van Houten listens during her parole hearing in Corona, California, June 28, 2002. On Tuesday, March 29, 2022, California Governor Gavin Newsom said the 72-year-old "currently poses an unreasonable danger to society if released from prison at this time," in his parole review, the Associated Press reported. Photo by Damian Dovarganes/Reuters
Leslie Van Houten, who has already been imprisoned for 50 years and is serving a life sentence for her role in the notorious Manson family murders, was denied parole on Tuesday.
The 72-year-old "currently poses an unreasonable danger to society if released from prison at this time," California Governor Gavin Newsom said in his parole review, the Associated Press reported.
She "wiped the house of fingerprints, and ate cheese and chocolate milk from the victims' refrigerator," wrote Debra Tate. "Before leaving, she patted their dogs on the head and left their bodies to be discovered the following evening by Rosemary's son and daughter."
"For years she showed no remorse at all for her actions," she continued. "When asked during her trial if she ever cried about the murder of Rosemary LaBianca she replied: 'Cry for her death? Why?…She's not the only person who has died.'"
The events leading to the murder charges against Van Houten began with the killings of a pregnant Tate and three friends, who were staying at a home on Cielo Drive in August 1969. (Another man who happened to be visiting the property's caretaker was also killed).