Michael Hooper: The VSB's failure to plan is a violation of public trust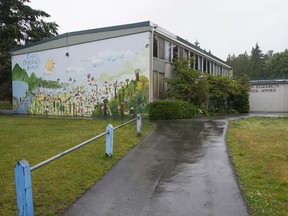 Vancouver, BC: JUNE 18, 2016 — Queen Elizabeth Annex school at 4275 Crown Street in Vancouver, BC Saturday, June 18, 2016. Photo by Jason Payne /PNG
I was troubled to recently learn about a living history museum allowing Vancouverites to experience first-hand the worst planning practices of the 1950s. This window on the past is the Vancouver School Board.
As a professor of planning at UBC, I encountered the VSB's archaic planning approach due to its efforts to dispose of school lands, starting with Queen Elizabeth Annex, a French immersion school on Vancouver's West Side, where I have one child in Grade 2 and another entering kindergarten.
Most future development at UBC, where a population doubling is expected by 2041, is excluded. Also excluded are densification plans for Broadway and other arterial streets.
As a result, the VSB's Vancouver bears little resemblance to the real city. Problematically, these plans, which minimize future enrolment, rationalize the plunder of tens of millions of dollars in public assets in the case of Queen Elizabeth Annex alone. Contrary to the VSB's plan, the census shows that UBC and surrounds, near the annex, are among the city's fastest-growing areas. Conveniently for the VSB, that growth doesn't appear in its alternative Vancouver.
The VSB's discounting of the future is not all that reeks of yesteryear. The board's announcement of a vote to move to a brief consultation phase on Queen Elizabeth Annex's disposal, through sale or lease, was made in January, at the pandemic's height. The announcement was made just before close of business on a Friday for a meeting the following Monday. Giving no advance notice of meetings is an example of planning tactics out of place in 2022, but essential to any re-enactor of 1950s public policy.