Ministry of Education declines to give school sports tournaments the green light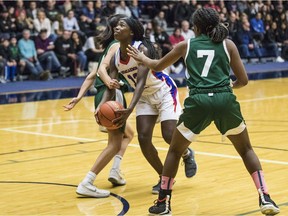 Semiahmoo Totems' Deja Lee takes the ball to the basket as Walnut Grove's Fania Taylor (7) blocks in the girls basketball final at Langley Events Centre in the 2019 high school basketball provincials. This year's tournaments are in jeopardy after hte Ministry of Education opted to keep sports tournaments on the backburner. Photo by Francis Georgian /PNG
The Ministry of Education is keeping high school sports tournaments on the backburner for the time being.
B.C. School Sports sent out a memo to schools on Friday afternoon stating the ministry is holding off on restarting school sports tournaments, even though the provincial government earlier this week OK'd youth sports tournaments beginning again on Feb. 1. Club and community tournaments,  involving the same age athletes as high school, are expected to resume that day.
There's no firm timeline on high school tournaments returning, according to B.C. School Sports.
High school teams have been permmitted to have single games.
There were no high school provincial tournaments for any sports in 2020-21. School sports officials were infuriated earlier in the pandemic when they were limited to only practices and club teams could play games.
"We are stunned by this decision, as there was commitment made this year to ensuring club and community sport access remained equal to school sport, and to have this decision made at such a critical time of year is disheartening for everyone involved in school sport and continues to threaten and erode at the long-term health and sustainability of school sport," the B.C. School Sport release Friday stated.
"The Ministry has indicated this will be reviewed on a week-by-week basis, but with no firm indication of when the K-12 Guidelines may be altered to align with the orders as put in place by the Provincial Health Officer.