New Kanye West course at Concordia to talk hip-hop culture, not gossip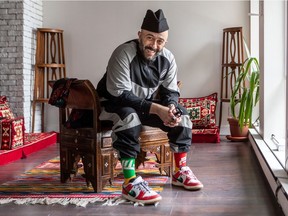 "Hip hop saved my life. If I wasn't a rapper, I wouldn't be a professor," said Yassin Alsalman, who teaches at Concordia University and raps under the moniker Narcy. Photo by Dave Sidaway /Montreal Gazette
Things have been crazy for Yassin "Narcy" Alsalman ever since news broke that the Montreal author, rapper and professor would be teaching a course on Kanye West at Concordia University this fall.
There have been loads of inquiries from the media for interviews. ET Canada did a story. Notorious American tabloid outlet TMZ even called, though they've yet to publish anything on the course. And within 24 hours of the announcement, all 200 places in the course were filled up. Now Alsalman and the university are discussing the possibility of enlarging the class.
Alsalman, who raps under the moniker Narcy and just released a new song on Friday, has been teaching courses about hip hop for several years at Concordia.