The kids are not alright: B.C. students face learning losses and uncertainty due to COVID-19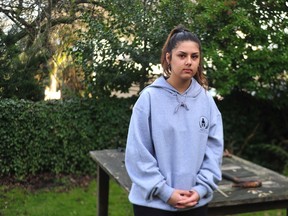 17-year-old Deven Norris spoke about the turmoil and uncertainty of school closures and learning disruptions during the COVID-19 pandemic. Photo by NICK PROCAYLO /PNG
Since March 2020, when the provincial Ministry of Education announced that grade schools would not reopen after spring break in an effort to curb the spread of COVID-19, students in B.C. have been grappling with a checkerboard of learning disruptions.
Families learned a new lexicon — from asynchronous instruction (learning remotely on your own time) to synchronous instruction (remote, but attending live classes virtually), to hybrid or blended learning (having access to classes but also online), to distributed learning (now called online learning), and, more recently, functional closure (a temporary move to online only).
Across Canada, some 5.7 million kids have been affected by school closures in some way since the pandemic began.
B.C. students have fared better overall than many in other provinces, with grade-school students now having lost an average of 12 weeks of in-person learning during the pandemic (less than all other provinces with the exception of Quebec students, who lost eight). But a study by the B.C. Centre For Disease Control reported increased child stress and decreased connection during school closures, as well as increased loneliness and declining mental health, leading to anxiety and depression.
According to the BCCDC's province-wide COVID-19 SPEAK survey, a majority of families reported effects on learning during school closures, with 76 per cent of respondents reporting impaired learning, which may worsen existing disparities in cognitive development and literacy.
Throughout the pandemic, B.C.'s provincial health officer Dr. Bonnie Henry has maintained that keeping schools open is essential, and of the "highest priority".
For many students, school closures mean losing social contact, safe spaces, disability supports, sports, extracurricular activities, friends, and even food.
For Deven Norris, a 17-year-old Templeton Secondary student in East Vancouver, it also meant the end to certainty — the certainty that every day she would get out of the house and see friends, as well as the certainty that she was working toward some worthwhile future.