U.S. legislative action spells end of time changes for B.C.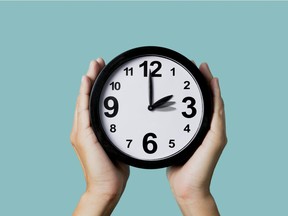 Photo by Getty Images /PNG
B.C.'s plan to stay on daylight time permanently took a giant spring forward on Tuesday when the U.S. Senate voted unanimously to make daylight time permanent in that country in 2023.
B.C. Premier John Horgan has advocated the measure for the province but has said we must wait for economic reasons for Washington state, Oregon and California to follow suit. And those U.S. states need federal approval.
About 30 U.S. states since 2015 have introduced legislation to end the twice-yearly changing of clocks, with some states proposing to do it only if neighbouring states do the same. The U.S. House Energy and Commerce committee held a hearing on the issue this month. Rep. Frank Pallone, the committee's chairman, said that "the loss of that one hour of sleep seems to impact us for days afterwards. It also can cause havoc on the sleeping patterns of our kids and our pets." Pallone backs ending the clock switching but hasn't decided whether to support daylight or standard time as the permanent choice.
Pallone cited a 2019 poll that found that 71 per cent of Americans prefer to no longer switch their clocks twice a year.
Supporters say the change could prevent a slight uptick in car crashes that typically occurs around the time changes and point to studies showing a small increase in the rate of heart attacks and strokes soon after the time change.