UBC marks Black History Month with success of new scholarship program for Black students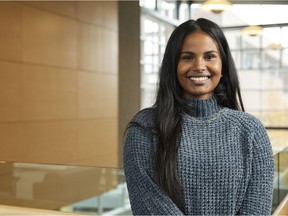 Nejat Alhussan is a UBC Okanagan first-year student and recipient of UBC's Beyond Tomorrow Scholars Award, which provides grants to Black Canadian students. Photo by UBC handout /PNG
To mark the start of Black History Month, the University of British Columbia is celebrating the launch of a new program that provides scholarships for Black Canadian students.
With the Beyond Tomorrow Scholars Program, students can access a variety of one-time and renewable awards of up to $80,000 and other support programs that help build community at UBC's Vancouver and Okanagan campuses.
The program launched in the fall with its first cohort of 13 students. Phase 1 of the program aims to support more than 100 students in the next four years, with the potential for further growth depending on funding, according to UBC.
Rohene Bouajram, associate director of strategic IBPOC (Indigenous, Black and People of Colour) initiatives at UBC who coordinates the program, said the success of the program depends on funding.
Bouajram said the program has the potential to create a long-term impact in addressing systemic inequality and racism.
"One of the barriers that we know for certain in accessing post-secondary school is financial. Some of our scholars said they would love to attend university but the sheer cost was a significant deterrent," Bouajram said.
"A financial barrier is a form of systemic inequity and access and then becomes part of a larger systemic issue of racism."
The grants can be one-time payments or renewed each year depending on the need of the student who is applying.
"This program has made me a lot more confident," said Nejat Alhussan, a UBC Okanagan first-year student and recipient of a Beyond Tomorrow Scholars Award.