Vaughn Palmer: Horgan sounds alarm over Ottawa's plans to end B.C. fish farms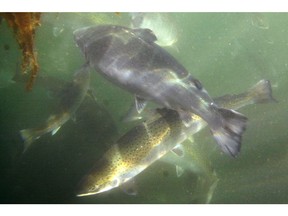 Atlantic salmon at a B.C. fish farm. Photo by Ian Lindsay /Vancouver Sun
VICTORIA — Premier John Horgan has sent a cautionary letter to Prime Minister Justin Trudeau over concerns Ottawa is preparing to sign death warrants for dozens of salmon farms on the B.C. Coast.
"Regrettably, there is widespread concern in coastal communities that your government is poised to make a decision in coming days that will eliminate many, if not all, salmon farming licences," wrote Horgan.
Murray's mandate from the prime minister following her appointment last fall, commands her to continue working on "a responsible plan to transition from open net-pen salmon farming in coastal B.C. waters by 2025."
The licences and tenures for the majority of salmon farms operating in B.C. — some 79 of them in all — expire in June.
The industry estimates that some 4,700 jobs and $1.2 billion in economic activity are dependent on those licences and tenures.