Will Smith mocks bald man in newly resurfaced clip: 'HE GOTTA WAX HIS HEAD'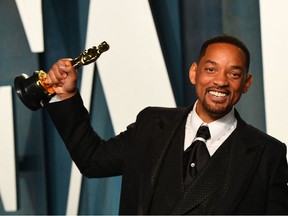 Will Smith holds his award for Best Actor in a Leading Role for "King Richard" as he attends the 2022 Vanity Fair Oscar Party on March 27, 2022. Photo by PATRICK T. FALLON /AFP via Getty Images
Will Smith is going viral again after a clip of him cracking a joke about a bald bass player during a 1991 appearance on The Arsenio Hall Show resurfaced online this week.
The newly rediscovered segment started making the rounds after Smith stormed onstage during Sunday night's Oscars and slapped Chris Rock across the face following the comedian's wisecrack about his wife, Jada Pinkett Smith, in which he compared her shaved head look to G.I. Jane, a movie that starred Demi Moore.
Rolling Stone caught up with Williams, now 81, who said he didn't take the remark seriously.
"He was a comedian. He was the Fresh Prince of Bel-Air. He was a rapper. I took it as a joke. I laughed it off," he said. Williams also told the magazine that the jokes differed because of their intent.
"Chris Rock is a comedian. I like Chris Rock. When Chris first made the comment, Will was laughing. It wasn't until it became obvious Jada didn't think it was funny that Will went to her defence. Love makes you do all kinds of things," Williams said. "That's his wife, who he loves. He just reacted from outrage. I have sometimes reacted from outrage."