After two years of COVID pandemic, Canadians want changes to health system: poll
75% of respondents agreed that COVID exposed significant weaknesses in Canada's health system that made them question whether it is truly 'one of the best systems in the world'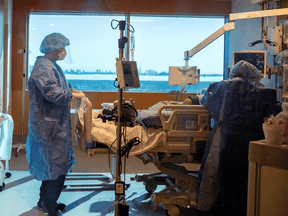 Half of the poll's respondents said they would support more private sector delivery of health care in Canada, so long as universality is maintained. Photo by Carlos Osorio/Reuters/File
The biggest surprise for Adrian Owen was just how big it got.
When the British-born, Western University neuroscientist and his colleagues launched their COVID-19 brain study in June of 2020, roughly eight million cases of COVID-19 had been confirmed worldwide which, to the renowned brain scientist, seemed an extraordinary number.
"Honestly, in my worst nightmares, I didn't think this was going to escalate to involve quite as many people."
Two years out, and the SARS-CoV-2 virus has infected more than 450 million worldwide. The official death toll stands at just over six million people, including more than 37,000 in Canada.
Now, at the second anniversary mark of the World Health Organization's official declaration of a pandemic, we're entering a new phase. Provinces are ditching most mask and vaccine mandates, confirmed case counts have plummeted from Omicron's January peak and much of the talk now, as Ontario's top doctor, Kieran Moore, said this week, is about "learning to live with and manage COVID for the long term."
Article content
A new Postmedia-Leger poll, however, suggests most Canadians have little faith their political leaders will make meaningful reforms to the health system to avoid future crises.
How else will governments deal with these wait times?
According to the survey, 75 per cent of respondents agreed that the pandemic exposed significant weaknesses in Canada's health system that made them question whether the system is truly "one of the best systems in the world." (There's no single system. Canada's health system is made up of 13 publicly funded provincial/territorial programs.)
While most of those surveyed didn't experience, firsthand, having a scheduled medical test, procedure or operation delayed due to COVID in the last two years, 49 per cent knew someone who did.
Article content
More than a third deliberately avoided going to emergency rooms or accessing the health system in other ways because of COVID-related concerns. Only 59 per cent overall said the health system has performed "very or somewhat well," throughout the pandemic, with British Columbia residents the most (76 per cent) pleased and Quebecers the least (46 per cent).
The majority agreed that "meaningful reforms" are needed to improve the delivery and accessibility of health services, but nearly 60 per cent were "not very" or not at all confident political leaders will look seriously at how systems performed during COVID, and make necessary changes. Half said they would support more private sector delivery of health care, so long as universality is maintained.