Assembly of First Nations delegates reject resolution calling for national chief's suspension
Thousands of delegates gathered for the annual Assembly of First Nations meeting in Vancouver to talk about the Pope's visit, Indigenous rights, housing and other priorities, but those issues were upstaged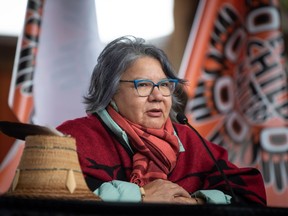 Assembly of First Nations National Chief RoseAnne Archibald speaks during a news conference in Kamloops, B.C., Thursday, Sept. 30, 2021. Photo by DARRYL DYCK /THE CANADIAN PRESS
VANCOUVER — An emergency resolution before the Assembly of First Nations annual meeting to reaffirm the suspension of National Chief RoseAnne Archibald has failed in Vancouver.
Archibald took the stage following Tuesday's vote and expressed her gratitude for the decision to end what she called an unjust suspension.
"I am 100 per cent committed to meeting with the regional chiefs. I need my phone back. I need my emails back. I need to be reinstated fully," she said.
The resolution said Archibald disclosed confidential information about the complaints against her by the organization's staff, compromising the integrity of the assembly's complaint process.
The vote needed the support of 60 per cent of eligible delegates for approval, but the resolution was defeated, with the tally to come later.
Article content
Thousands of delegates gathered for the annual Assembly of First Nations meeting in Vancouver to talk about the Pope's visit, Indigenous rights, housing and other priorities, but those issues were upstaged by Archibald's claims of corruption and infighting over her leadership.
Dressed in Indigenous regalia, Archibald strode in at the start of the gathering ahead of a group of chanting supporters.
Just the day before, Archibald said she had been "erased" from the agenda after her suspension by the executive committee June 17 while an investigation was underway into four complaints against her by her staff.
Instead, Archibald led opening ceremonies, welcomed attendees and spoke to delegates.
"I am your representative. I am your servant. I only exist because all of you put me in this position, so an attack on me is an attack on you," she said before delegates voted. "It is your authority to determine what happens to the national chief. You elected me, not the regional chiefs. You determine what discipline I face."
Article content
Archibald alleges she was suspended for trying to investigate corruption within the assembly and called for a forensic audit of the organization for the last eight years.
She said it comes after "decades" of calls for reform within the organization.
"When you support me, you will be fighting against corruption," Archibald said.
The Assembly of First Nations executive released a statement Tuesday urging delegates not to allow the human resource complaints involving Archibald to "overshadow the real and ongoing work that is required on behalf of the First Nations people."
"The committee further calls on the national chief to immediately cease any actions and statements that amount to serious breaches of the confidentiality and privacy interests of AFN employees, service providers and others, including making broad allegations of misconduct," the statement said.