Australians have 'jumped the gun' over Captain Cook wreck
U.S. scientists accuse counterparts of being high on 'Australian emotion' in their haste to identify Endeavour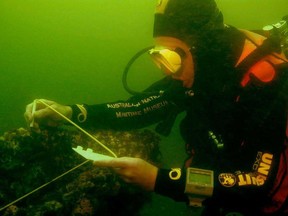 A diver on the seabed looking over the area where it is believed the wreck of Captain James Cook's famed vessel the Endeavour has been found off the coast of Newport in the US state of Rhode Island. Photo by HANDOUT /Australian National Maritime Mus
U.S. archeologists have accused their Australian partners of prematurely announcing the discovery of Captain Cook's Endeavour, because they were high on "Australian emotion".
The extraordinary row has broken out after Kevin Sumption, the chief executive of the Australian National Maritime Museum declared that after a 25-year search, a wreck found off America's Rhode Island was the ship they had been looking for.
British forces are known to have scuttled the ship in the area during the American Revolution in 1778, seven years Cook's voyage of discovery. The humble Whitby coal carrier was used on an epic voyage around the South Seas, while its sailors pioneered a cure for scurvy.
Mr Sumption said: "I am satisfied that this is the final resting place of one of the most important and contentious vessels in Australia's maritime history."
Article content
However, The Rhode Island Marine Archaeology Project, whose researchers have also been poring over the wreck, have insisted the quest is not yet over. Kathy Abbass, its chief executive, insisted: "What we see on the shipwreck site under study is consistent with what might be expected of the Endeavour, but there has been no indisputable data found to prove [it] is that iconic vessel, and there are many unanswered questions that could overturn such an identification."
In a pointed statement, she insisted hers was the lead organisation on the project and that "when the study is done, RIMAP will post the legitimate report". In a further barb, she said the report would be driven "by proper scientific process and not Australian emotions or politics".
Article content
The accusations come amid uncertainty over who will own the Endeavour if it is salvaged and where it might be displayed. In 1999, the Rhode Island authorities took legal action to get ownership of the ship. But Australians have long hoped the wreck will be returned to them, given that it was Cook who named Botany Bay (because the Endeavour's botanists took an abundance of plant cuttings there).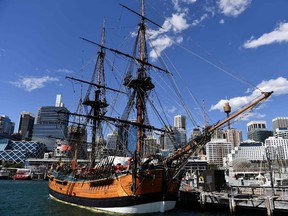 The Endeavour's original goal was to find — and if possible claim — the so-called Terra Australis Incognita, or "undiscovered southern land". This was a mythical land mass thought to counterbalance the northern continents.
However, to avoid hostile acts by other European powers, the ship's official mission was to sail to Tahiti to record the Transit of Venus, a rare astronomical event in which Venus appears as a black dot crossing the sun.