'Bad call': Fans theorize Chinese speed skater tripped Canadian
Olympic greats Catriona Le May Doan, Charles Hamelin among those offering congratulations, support to Alyson Charles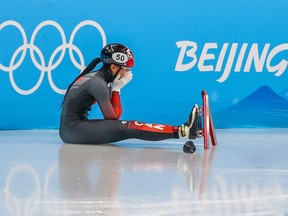 Canada's Alyson Charles reacts after crashing during her 500M short track speed skating quarterfinal at the Beijing 2022 Winter Olympics on Monday, February 7, 2022. Photo by Gavin Young / Postmedia /Postmedia
Canadian speed skater Alyson Charles is looking ahead to her next event at the 2022 Beijing Winter Olympics after a chaotic run through the women's 500-metre races.
Charles took to Instagram after Monday's results, writing in French that the event had been a highly emotional journey after finishing eighth. She went on to write she was "now focusing on the 1000m and the relay with my girls!"
Article content
Canadian short-track speed skating star and 2022 Olympic flag-bearer Charles Hamelin was among those to offer encouragement, responding to Charles' post in French and telling her she was wonderful to watch during the competition and advising her to hold on the positives from her Olympic experience.
Catriona Le May Doan, two-time Olympic speed skating champion and Team Canada's chef de mission in Beijing wrote "You kept your head held high. Nous sommes fiers de vous."
Charles was involved in a quarterfinal race that raised some eyebrows among fans following a crash. Footage appeared to show Chinese skater Fan Kexin flicking a lane marker into Charles' skates during the final lap. Charles went careening into the boards, taking Kexin with her.
Article content
Twitter user Bill Murtagh was among those to voice their displeasure as video replays appeared to show Kexin's hand move the marker. "You can clearly see it was the hand of Chinese skater Fan Kexin that pushed the marker that caused the spill. Bad call," he wrote.