Banks were only asked to freeze accounts of 'Freedom Convoy' protesters in Ottawa, and after most were warned: RCMP
'The point of using these tools was to make sure that people left downtown Ottawa as peacefully as possible,' Supt. Denis Beaudoin told the Commons finance committee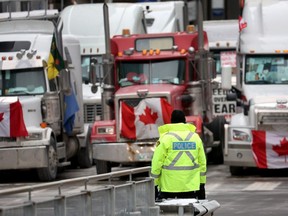 A police officer stands guard near trucks participating in a blockade of downtown streets near the Parliament buildings in Ottawa on Feb. 16th, 2022. Photo by Scott Olson/Getty Images
OTTAWA — Two senior Mounties said they only asked banks to freeze the accounts of people and organizations who were actually at the so-called "Freedom Convoy" protests in Ottawa, and only after officers called most of the targeted protesters to warn them.
Testifying before the House of Commons finance committee Monday, two RCMP officials told MPs that the main goal of having the power to freeze bank accounts was to push convoy "influencers and leaders" to leave Ottawa before police intervention was necessary.
But they could not say how many of them actually left because of that threat.
"The point of using these tools was to make sure that people left downtown Ottawa as peacefully as possible," said Supt. Denis Beaudoin, director of the RCMP's financial crimes division.
The Liberal government invoked the Emergencies Act on Feb. 15 in response to the anti-vaccine mandate protests that clogged the streets around Parliament Hill in Ottawa for a month. The powers lasted until the government revoked them on Feb. 23.
Article content
The Commons struck the special committee to investigate why the Trudeau government made the historic decision to invoke the powerful act and whether the threshold was met for declaring a public emergency.
Under the Act, banks received the power to monitor and even freeze accounts of individuals tied to the protests.
In total, RCMP Assistant Commissioner Michel Arcand said 257 accounts were frozen and the RCMP disclosed information on 57 entities to financial institutions.
The police force also identified and disclosed 170 Bitcoin wallet addresses linked to convoy crowdfunding campaigns worth a total of 20.7 Bitcoins, or roughly $1 million to $1.2 million, Arcand said.
Article content
But RCMP agents contacted the "vast majority" of the remaining blockade participants in Ottawa before they sent their information to financial institutions to both make sure they were in fact still there and then warn them of the imminent freezing of their accounts if they didn't leave.
"The RCMP contacted a number of people to ask them where they were. And a lot of them would answer that they were in the blockades and they were not leaving," Beaudoin said.
The emergency powers also gave the RCMP the power to push for the "immediate" suspension of insurance policies on vehicles involved in the blockades.
But Arcand said they ultimately opted not to do that because it would prevent protesters from driving away from Ottawa, which was counterproductive to the objective of getting them to leave as soon as possible.