Barack Obama tests positive for COVID-19
The former U.S. president says he had a "scratchy throat for a couple days" but is now feeling fine.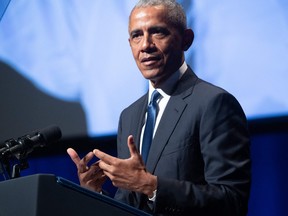 In this file photo taken on Jan. 8, 2022, former U.S. president Barack Obama speaks during a memorial service for the late U.S. Senate Majority Leader Harry Reid at The Smith Center for the Performing Arts in Las Vegas, Nevada. Photo by SAUL LOEB /AFP via Getty Images
Former U.S. President Barack Obama said on Sunday he had tested positive for COVID-19 and was feeling fine other than a scratchy throat.