Biden calls Putin a war criminal, Russia says mission 'going to plan'
Biden said the United States was offering an additional $800 million in security assistance to Ukraine to fight Russia.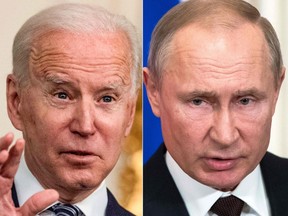 This combination of pictures shows U.S. President Joe Biden (left) and Russian President Vladimir Putin. Photo by ERIC BARADAT,PAVEL GOLOVKIN /AFP via Getty Images
KYIV/LVIV — U.S. President Joe Biden called Russian President Vladimir Putin a war criminal on Wednesday, prompting the Kremlin to say the comment was "unforgivable" as the war in Ukraine raged for a 21st day despite talk of compromise in peace negotiations.
Moscow has yet to capture any of Ukraine's biggest cities following its incursion that began on Feb. 24, the largest assault on a European state since World War Two that has raised fears of wider conflict in the West unthought-of for decades.
Putin on Wednesday said the Kremlin was ready to discuss neutral status for its neighbor but said what he calls a "special military operation" to "demilitarize and denazify" Ukraine was "going to plan." Russian forces kept up their bombardments of besieged cities, including intensified shelling of the capital Kyiv.
Biden said the United States was offering an additional $800 million in security assistance to Ukraine to fight Russia, with the new package including drones and anti-armor systems.
Article content
"More will be coming as we source additional stocks of equipment that … we are ready to transfer," he said.
Biden later condemned Putin: "He is a war criminal," he told reporters.
Kremlin spokesman Dmitry Peskov said the comment was "unacceptable and unforgivable rhetoric," according to Tass news agency.
At the request of Ukrainian President Volodymyr Zelenskiy, Washington will help Ukraine acquire additional long-range missile anti-aircraft systems as the West bolsters his government, which is still holding out hope that talks with Russia can find a solution.
Zelenskiy said negotiations were becoming "more realistic" and Russia's foreign minister said proposals under discussion were "close to an agreement."
Article content
The U.S. Embassy in Kyiv said Russian forces had shot dead 10 people waiting in line for bread in Chernihiv, northeast of Kyiv. Russia denied the attack and said the incident was a hoax.
Footage from Ukraine's state broadcaster showed bodies lying on the street. The Ukrainian general prosecutor's office said it had opened an investigation.
Emergency services said rescue workers had found the bodies of five people, including three children, during searches of shell-hit residential buildings in Chernihiv.
In the besieged southern port of Mariupol, the city council said Russian forces bombed a theater where civilians were sheltering. The number of casualties was not known.
Russia's defense ministry denied it had carried out an air strike against the theater. Reuters could not independently verify the information.