Bump in COVID-19 cases 'not unexpected' as public health measures lifted, Tam says
Tam says the number of new cases of the virus have started to level off after weeks of decline.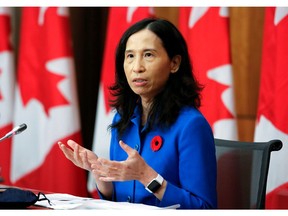 FILE PHOTO: Canada's Chief Public Health Officer Dr. Theresa Tam speaks at a news conference held to discuss the country's coronavirus disease (COVID-19) response in Ottawa, Ontario, Canada November 6, 2020. REUTERS/Patrick Doyle/File Photo ORG XMIT: FW1 Photo by PATRICK DOYLE /REUTERS
OTTAWA — Canada's top public health officials have suggested the country is unlikely to be caught up in the new wave of COVID-19 cases around the world, but could instead see a "blip" this spring.
Dr. Theresa Tam expects a rise in cases of COVID-19 as public health measures are lifted in Canada, but says severe outcomes in the country should be manageable.
"Hospitalizations could certainly come up when cases go up. However, it is expected that increase in hospitalization would be less than what we just saw," said Tam, referencing the massive Omicron wave Canada is only now riding out.
The Omicron wave of COVID-19 led to a new round of public health restrictions and school closures as hospitals were once again stressed to their limit to accommodate the huge number of cases coming through their doors.
Since the peak in January, cases have been declining steadily and have since levelled off, with approximately 5,000 cases reported daily, and the number of people in hospital have begun to dwindle.
Article content
The daily average number of people in hospital with COVID-19 declined by 11% since last week, and the number of people in intensive care declined by 14%.
But even as Canada's situation has stabilized, worrying trends have begun to emerge elsewhere in the world.
The World Health Organization warned Tuesday that several regions have seen increases in cases in the Western Pacific, Africa and Europe.
While deaths attributed to the virus are declining around the world, the Western Pacific region has seen a 12% increase in people killed by COVID-19 in the last week.
The renewed spread of COVID-19 abroad has been partially blamed on BA.2, a sublineage of the Omicron variant that has been dubbed "stealth Omicron."
Tam said the international data suggests BA.2 seeks out and targets people with poor immunity, including unvaccinated people without prior exposure to the Omicron variant.
Article content
That's why Canada may be in better stead, with an 85% rate of fully vaccinated eligible people, to prevent hospitalizations "even if there's a spring blip" in cases, Tam said.
So far BA.2 is spreading relatively slowly in Canada, and accounted for about 22% of cases as of Feb. 20. It doesn't appear to to cause more severe illness than other variants, Tam said.
Canada is moving away from fixating on case counts in general, as it enters a "transition phase" of the pandemic, she said.
While public health will continue to watch for geographically representative trends around the country and around the world, Tam said it will be keeping a much closer eye on hospitalizations and severe cases.
Tam said the best way to prevent those outcomes is for as many people as possible to get a full slate of vaccines, including a booster.