Carson Jerema: Freedom Convoy reveals a Canada governed by hypocrisy and traffic jams
Opinion: The left is suddenly against unlawful protest tactics, while the right is cheering them on.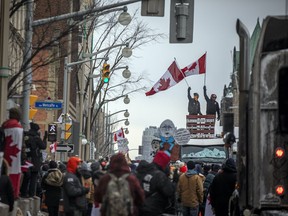 People gathered in Downtown Ottawa during the Freedom Convoy protest, Sunday, February 6, 2022. Photo by ASHLEY FRASER / POSTMEDIA
The Freedom Convoy protests that have overtaken the Ottawa core for a week-and-a-half, impeded a southern Alberta border crossing and spread to Toronto, Vancouver and Quebec City, are revealing the true ideology of this country, and it is definitely not peace, order and good government.
People previously committed to protest, even when it breaks the law, are among the loudest critics of the convoy, while formerly rock-ribbed law and order conservatives are cheering protesters even as they illegally block streets in the capital. The anti-vaccine mandate protests — which features a good number of those who oppose vaccines outright — have turned up to down and left to right. No more "Defund the police," now it's "Call in the troops." No more "Clear the blockades," now it's "People have a charter right to express themselves."
Not everyone has forgotten themselves though. As the honkpocalypse rolled into Edmonton Saturday, Alberta Premier Jason Kenney warned on social media that while people have a right to protest, they should respect the law. "Disrupting the lives of your fellow Albertans & creating illegal, dangerous road hazards is totally unacceptable," he wrote.
Article content
If Kenney hadn't had such a rough time leading his own United Conservative Party caucus this last year, he might make a credible candidate for the national Conservative leadership because his expression against unlawful protest tactics is in stark contrast to how some federal Tories have reacted.
Former leader Andrew Scheer and potential future leader Pierre Poilievre have been among the loudest supporters of the convoy protesters, even as it became clear they weren't going home after the first weekend, and their intentions to impose an indefinite honking misery on Ottawans was plain. Both men, of course, were among the strongest voices on the right demanding, in early 2020, that railway blockades across the country in protest of the Coastal GasLink pipeline be cleared.
Article content
"These blockaders are taking away the freedom of other people to move their goods and themselves … that is wrong and the government has laws and tools in place to combat it," Poilievre said at the time.
There is a lot of this going around.
Prime Minister Justin Trudeau dismissed last week the suggestion he should meet with the convoy protesters. "That is the decision Canadians took in the last election, by voting for parties that were supporting those mandates," he said. Translation: You had your chance to vote last fall so take a hike. This was after the Ottawa police chief said the situation might not have a "policing solution."
And yet, Trudeau called for "constructive dialogue" during the 2020 anti-pipeline campaign to "shut down Canada."