CFIA canned potato review irritates farmers, shows depths of government secrecy
"Yes, we care about all potatoes – big and small," the agency tweeted.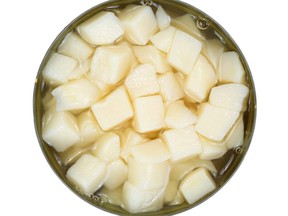 An opened can of diced potatoes. Photo by BWFolsom /iStock / Getty Images
OTTAWA — The Canadian Food Inspection Agency wants to know what people think about the size of canned, cubed, white potatoes – but if you want to know exactly who asked for the change or why this is a priority exercise, you're out of luck.
CFIA launched a month-long consultation on Jan. 21 after saying it had received a request from "industry" to change the maximum allowed size of diced, canned potatoes from 10 millimetres to 20 millimetres.
"Yes, we care about all potatoes – big and small," the agency tweeted. "These consultations stem from an industry request to produce larger cubes, which would allow them to get more Canadian potatoes to market."
Article content
The tweet was met with great delight by some Twitter users who jumped at the chance to show their proficiency in potato puns.
"I'm afraid most of us will never see eye to eye on this very important and somewhat unapeeling issue," commented Jeany Jerome.
Article content
Imagine the fun they might have had if they'd known the size change will affect all grades of canned, diced, white potatoes, including the lowly "Canada standard" grade, the higher-brow "Canada choice" grade, which can't include as many "irregularly shaped units," and the top grade, with the least defective pieces, with the prized label of "Canada Fancy."
Dozens of people replying seemed shocked to discover that canned potatoes existed in any format, but the vast majority deemed it an unusually trivial matter to be concerned about.
"With everything else going on in the world, this issue is small potatoes," a Twitter user named Holly wrote.
For Conservative agriculture critic John Barlow, the consultation is a slap in the face to potato farmers in Prince Edward Island, who haven't been able to sell potatoes to their main export market in the United States for months because of a CFIA decision.