Chris Selley: Conservatives are at each other's throats. It's about time
The issues that are dominating early campaign discussions have been hanging over the party like a giant cartoon question mark since at least the 2015 federal campaign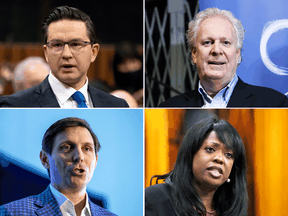 Federal Conservative leadership candidates, clockwise from top left, Pierre Poilievre, Jean Charest, Leslyn Lewis and Patrick Brown. Photo by CP, Postmedia and Reuters
Pierre Poilievre stands "against religious freedom," alleges Patrick Brown. Patrick Brown is a "liar" who "lies a lot," Poilievre responds — oh, and Jean Charest is a beet-red carbon tax-loving Liberal. Charest says that's "ridiculous," and on Monday tried to cast himself as the wise old owl in the Conservative leadership race. "The CPC movement must be built through consensus and unity, not through division and alienation," he tweeted.
This race may well see more dirty laundry paraded in public than any since the Canadian Alliance-PC merger in 2003. And there is potential risk in that, especially from the standpoint of supporters who only really care about Justin Trudeau not being prime minister anymore. The Conservatives have won the popular vote two elections in a row. Trudeau's Liberals ought to be even more beatable next time around.
But a party that wanted to keep its head down and let the government defeat itself wouldn't have defenestrated the perfectly electable Erin O'Toole the way it did. The issues that are dominating early campaign discussions have been hanging over the party like a giant cartoon question mark since the 2015 federal campaign, if not before. They need resolving, politesse be damned.
Article content
Brown's charge against Poilievre is that he supported "two discriminatory policies from the 2015 … campaign," namely "the niqab ban and the barbaric cultural practices tip line." Brown added Bill 21, Quebec's law barring teachers and some other civil servants from wearing religious symbols on the job, to the list of policies Poilievre has not "stood against." He noted that Jenni Byrne, who ran the 2015 federal Conservative election campaign for Stephen Harper (until the wheels came off the bus), is a key member of Poilievre's team.
"There was no niqab ban," Poilievre retorted, only a requirement that people remove niqabs while swearing the citizenship oath. Awkwardly for Poilievre, however, two of his high-profile supporters, MPs Melissa Lantsman and Tim Uppal, have explicitly disavowed their previous support for what they termed a "ban."
Article content
Listen, it's not unreasonable to think people should have to show their faces while taking the citizenship oath. If we require people to recite it, why not make certain that they are, in fact, reciting it? The question is, why did it suddenly become an issue? And the answer is, simply, politics.
Indeed, the Conservatives used arguments to justify their position that are very similar to those underpinning Bill 21 in Quebec. Jason Kenney, who was citizenship minister when the unveiling rule was introduced, argued it reflected "long-held Canadian values of openness and the equality of women and men" — just as Quebecers argue Bill 21 is just a natural extension (albeit, mysteriously, 40 years late) of the Quiet Revolution. Harper, like Quebec Premier François Legault today, would note that an "overwhelming majority" of Canadians agreed with the rule, including many moderate Muslims.