Chris Selley: Not such a happy Easter for Pierre Poilievre's haters
If you want to argue to disentangle religion from Canadian officialdom — schools, hospitals, homeless shelters — go ahead. Just consider that you might well make things worse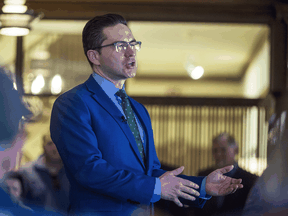 Some on Twitter are looking to portray Conservative Party of Canada leadership candidate Pierre Poilievre as a hyper-religious weirdo for an old Easter greeting to constituents. Photo by ALEX FILIPE/Postmedia
Would-be federal Conservative leader Pierre Poilievre faced a small but intense backlash on social media recently when someone unearthed an old newspaper advertisement he had taken out offering his Christian constituents best wishes for Easter: "He is Risen!" it read, with a photo of Poilievre's mug attached and his contact information below.
It was a bog-standard political greeting: just last week, Justin Trudeau's Twitter account carried best wishes for Nowruz, Holi, Purim and St. Patrick's Day, with the PM's grinning face attached. And "He is Risen!" is a bog-standard seasonal greeting among many observant Christians. The He in question is Jesus, obviously, not the person saying it.
Well, that was obvious to me. I'm not so sure about some others. "Jesus Christ," much-decorated political cartoonist Michael de Adder responded disapprovingly on Twitter. And "This kind of batshi–ery is very common with the U.S. *Christian* right," tweeted Gerald Butts, formerly Trudeau's principal secretary and chronic foot-in-mouth sufferer. "Google Trump and Jesus sometime." 
Article content
Twitter isn't real life (though its participants are real people). Partisans are aflame thanks to the Conservative leadership race, and Liberals will want to portray the eventual winner — unless it's Jean Charest, perhaps — as a foaming-at-the-mouth theocrat. But a remarkable number of normally even-keeled people I follow, people who are reasonably skeptical but not generally outright dismissive of religious faith, seemed to have been at least partly taken in by this narrative of Poilievre as a hyper-religious weirdo.
Writer and Anglican priest Michael Coren, who rarely avoids a chance to criticize conservatives or what he sees as inappropriate manifestations of Christianity, weighed in partially in Poilievre's defence: "I will say 'He is Risen' often and loudly at Easter," he wrote, "because I believe in the Jesus of love, justice, peace, equality, grace, and a revolutionary transformation of society where nobody is poor, hungry, or alone."
Article content
I was reminded of that observation while reading an excellent piece in the current edition of The Walrus looking at "the conflict inside Catholic hospitals." In it, health reporter Wendy Glauser documents various ways in which doctors, nurses and patients sometimes get around institutional restrictions on procedures like abortion, tubal ligation and assisted suicide — not just with referrals, which they are required to provide, but with various, winks, nudges and fudges. And she documents how patients sometimes suffer as a result of affording institutions and individual practitioners "conscience rights" — a notion widely derided among Canadian progressives, who tend to think (not entirely unreasonably) that doctors employed by the state should deliver services approved by the state, period.