City of Calgary granted temporary court injunction to deal with ongoing protests
The injunction prohibits ongoing violations of existing bylaws and legislation, and both reinforces and clarifies enforcement authority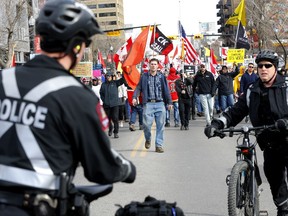 A crowd of protesters walk down a street in Beltline towards police officers on Saturday, March 12, 2022. Photo by Darren Makowichuk/Postmedia
Calgary police said officers are going to crack down on marching and disruption on Saturday after the city was granted a temporary court injunction. 
Chief Mark Neufeld said police will end the parade of protesters that have been paralyzing the Beltline area and along 17th Avenue for months on Saturday through the injunction.
"There will be no marching tomorrow," said Neufeld during a police commission meeting on Friday. "There will be no mobile protest. And there will be nobody behaving that way down on the Beltline."
The injunction granted Friday bars people from blocking traffic on roads and sidewalks, operating vendor stands without a permit at parks, excessive horn honking or using an amplification system in the park without prior permission. Those in violation could be arrested or detained.
Thousands of protesters have paraded through city streets on Saturdays over several months in opposition to a number of issues, mostly related to COVID-19 public health measures. Numbers have ranged from 300 people in March 2020 to as many as 5,000 people in February, according to police.
Article content
Escalation has increased over the last three weeks when demonstrators were met with counter-protesters comprising of Beltline residents and community members. Police estimated around 200 counter-protesters gathered in Tomkins Park last weekend.
Neufeld said enforcement through existing bylaws usually results in a ticket or summons. The injunction allows officers to detain anyone in violation on site.
"Marching in the protests, noisemakers, horns, amplification devices — these types of things you could actually be arrested (for)," Neufeld said.
"Once you're aware of the order and its existence, you can be told to stop doing that. And if you continue to do that, you can be arrested right there and go directly to jail."
Article content
Shawn Cornett, chair of the police commission, said the oversight board has received more than 400 written submissions on the protests within the last week.
"We hear you and we want to make it end. Your community has experienced a disproportionate impact from these protests. It cannot continue," Cornett said.
The commission respects the freedom of people to protest, Cornett said, but that freedom also comes with responsibility.
"Holding protests that obstruct traffic, produce noise and disrupt the same neighbourhood, week after week, only continually punishes the people who have as much control as you over the things you are protesting."
Mayor Jyoti Gondek said the injunction allows Calgary police to have another tool available to effectively address ongoing disruptions in the Beltline community.