Coronation or actual race? Strategists divided over whether to hand Poilievre the Conservative leadership
'He may be loved by the Conservative Party, but there are many political vulnerabilities he would need to hone out that perhaps could be addressed in a leadership contest'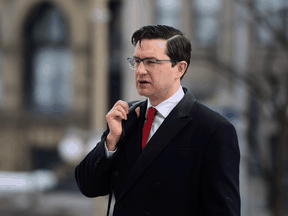 The federal Conservatives are looking for a new party leader and longtime Ottawa-area MP Pierre Poilievre has emerged as a leading contender for the job. Photo by Sean Kilpatrick/The Canadian Press/File
Should the Conservative Party proceed to a quick coronation of Pierre Poilievre or hold an actual leadership race?
Poilievre, who announced his candidacy for the leadership over the weekend, is considered a strong favourite to win due to his high profile as MP and his strong conservative brand. But Conservative strategists and commentators who spoke to the National Post are torn between holding a quick leadership race and gearing up for the next election, or opting for a longer contest with the outcome being harder to predict.
Anthony Koch, managing Principal of AK Strategies, makes no secrets: he will support Poilievre.
"There are people calling Pierre and saying… I want to be with you.' Like, come on. Everyone's clamouring for it. So that's kind of where things are right now," says Koch.
"It's a leadership race and not a coronation." argues Tim Powers, chairman of Summa Strategies.
Article content
Powers says there is "no magic leader out there" and that Conservatives will ultimately take a long, hard look in the mirror to see what they need to change.
"There is no unicorn here and choosing Pierre Poilievre quickly – or anybody else – means you are terrified to address the real problems within the Conservative Party," says Powers.
Powers adds that even Poilievre should want a longer leadership race.
"He may be loved by the Conservative Party, but there are many political vulnerabilities he would need to hone out that perhaps could be addressed in a leadership contest among his peers," says Powers, who thinks the race should last until late fall.
Article content
"My advice is for this to be a shorter campaign, that has contestants who have serious national profile, to serious proven political chops, to be able to mobilize a campaign and compete," says Jamie Ellerton, principal at Conaptus Public Relations.
If a new leader was elected by the end of June, he or she would have several weeks to "take the reins of the party, get their team in place, work with caucus to establish a plan for the fall, and then really hit the ground running" as soon as Parliament returns.
Yan Plante, vice-president of TACT Conseil, says that shorter races will undoubtedly advantage insiders, such as Poilievre, "because politics is already their job."
"If you have someone from the private sector, or from the media, or anywhere else, that's not their day job, so they have to raise some money, and they have to make a living during those months where they're campaigning," says Plante.